Shopping Cart
Your Cart is Empty
There was an error with PayPal
Click here to try again
Thank you for your business!
You should be receiving an order confirmation from Paypal shortly.
Exit Shopping Cart
| | |
| --- | --- |
| Posted on May 19, 2015 at 1:25 PM | |
Moving is a stressful ordeal, but when you are an adult child moving your senior parent from one home to another, there is an added layer of complexity. Who will lead the charge on downsizing? Who will coordinate an estate sale? Who will deal with the sale of the home? More importantly, who will make sure that Mom and/or Dad and their lifetime of possessions are being treated with respect and dignity?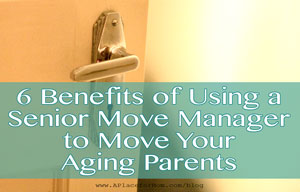 6 Benefits of Using a Senior Move Manager to Move Your Aging Parents

  

Today, families are dispersed over vast geographical areas and may not have the bandwidth to be organized and thoughtful in helping their senior parent move homes. The adult child might not have the capacity to deal with all the moving details much less the ability or patience to work through the entire process at a pace that is comfortable for the senior parent. Where the adult child may look at their parent's possessions as just "stuff," to a senior parent, it's a lifetime of memories. This is how having an expert can take away family stress and ensure the most efficient and dignified move for the senior.

 

 

We had the opportunity to interview Mary Kay Buysse, M.S., Executive Director at National Association of Senior Move Managers (NASMM), and received valuable advice on how to deal with the complexities around moving a senior parent, and the benefits of using a Senior Move Manager to organize the move.

 

 

What is a Senior Move Manager?

A Senior Move Manager is a project manager who specializes in project managing moves for seniors. As a trade association with an organizational accreditation program, NASMM members must abide by a strict code of ethics to ensure integrity in the industry and the seniors they serve. Developed 12 years ago out of a clear need for a cohesive organization; NASMM now has over 800 members across the U.S., across Canada and several European countries.

  

Buysse explains that their earliest members started with their own families, within their own neighborhoods and churches. In fact, 99% of NASMM members came into the Senior Move Management profession through a personal experience after seeing how completely overwhelming and daunting it was for their own families, it's only natural that NASMM has a mission to "facilitate the physical and emotional aspects of relocation for older adults" with compassion and integrity. Buysse shares, "We always say you can do well for yourself by doing good for others, and that's really our mission and one of the things I can't stress enough."

  

"Time is flying by and people just don't have enough of it," says Buysse. "While we can purchase goods cheaply, our time is more expensive than ever; time is the rarest commodity of all. With the growing parallel to this aging population, families being dispersed and families not having enough time – the environment was just right for something like Senior Move Management to occur, and we're really proud of it."

 

 

Top Reasons You Should Use a Senior Move Manager

  

1. Eliminates the Potential for Financial Exploitation

"It's very difficult work," shares Buysse. "We're dealing with people who are frail, people who have memory loss, people who have suffered a great deal of loss – loss of spouse a best friend, driving privilege and loss of hearing or sight. This is not for the faint of heart. This is difficult work, but, is absolutely the most gratifying work."

  

NASMM members must maintain high standards and follow a strict code of ethics. Along with accreditation, NASMM offers its members self-study training and must have two letters of recommendation. Members must also have general liability insurance, take classes in ethics and safety, and provide a signed contract to protect both the move manager and the senior's irreplaceable items like photos.

  

2. Downsize in an Organized and Dignified Manner

  

Before Senior Move Management existed, the way a senior was moved out of their home that they lived in for 30, 40 or 50 years was done very expediently. Often over a weekend, adult children would fly in and only be able to give a few days to the move and order a dumpster to be parked in the driveway. That home that took 40 or 50 years to build was downsized in 48 hours, buy adult children who hadn't lived in it for 25 years.

 

 Senior Move Managers acknowledge the time it took to accumulate the lifetime of possessions, so they take the time to go through everything with the senior parent, whether it takes weeks or months. Even if no move is involved at all and the senior needs help downsizing clutter in their home, the move managers will do all of the same things as if they were moving through a program called [email protected]

  

3. Gives More Control to Seniors

  

Roughly 50% of seniors that NASMM moves are into a congregate living community, including assisted living, independent living and memory care. Sometimes, it is a senior moving in with an adult child, or a senior apartment that's in a multi-generational building that is in the middle of town. If it's a really independent senior, sometimes it is two older women who are sisters where both have lost their husbands and have decided to move in together.

  

Wherever the senior is making the move to, it's important to ensure that they feel in control of the move. "It's a win-win situation because the older adult feels like the have directed the move," says Buysse. "They don't feel like they are being placed somewhere, instead, they feel like they are choosing to live somewhere else."

  

4. Expert Attention to Detail 

 

Most Senior Move Managers are accomplished women who have found move management as a post-retirement career. With professional backgrounds including nursing, marketing and even information technology, most move managers have expert project management skills. Because teachers often retire with their full pension by 50 or 55, NASMM has a large membership of retired teachers.

  

NASMM Senior Move Managers moved over 75,000 seniors last year and expect to move around 100,000 seniors this year. Since it took many years for seniors to accumulate their lifetime of possessions, the move managers will work with the older adult for weeks, sometimes months, prior to the move and go through everything to determine what can be repurposed, recycled and sold. "There's a lot of options and the dumpster is the last resort," says Buysse.




The move manager will take digital photos of the entire content of the house and place them on a protective card of her website and send a link to all the family members around the country so that the family can also weigh in on what should be done, and arrange shipment or storage of goods until a decision is made. The move manger will connect the family with an estate sale expert, or sometimes even conducts the estate sale themselves. They will also help with placing the home up for sale through real estate agents in their network and arrange for moving and cleaning services. Anything that is donated, the move manager ensures that the donations are documented and tax deductible.

  

NASMM works with Habitat for Humanity and Move for Hunger, and the move manager determines what can be donated and repurposed for another family. "Using a move manager is not very expensive as much of the move can be paid for by a sale of goods or a tax deduction of goods," says Buysse.

 

 5. Decreases Family Stress 

 

A Senior Move Manager helps make the transition to a new home smoother for the entire family, especially the senior, as they will feel like they chose it. "Families often have a lot of emotional baggage," says Buysse. "There's a lot of history, and some of it is not the best history. So, when an adult child is not really a close confidant of the parent, or a caregiver of the parent, they might create more friction at a time when families really need each other."

 

 By having an expert manage the move, it helps take away a lot of stress for everyone involved, help to keep families from fighting about what is best for Mom or Dad, and ensures that the best interest of the senior is being kept in focus. 

 

6. Solves Problems You Never Anticipated




Because Senior Move Managers are project managing these moves daily, "they have all kinds of creative tools at their fingertips, things you or I would never even think of," says Buysse.

  

Buysse shares an example of a move manager working with a woman in her 80s. She had been an executive's wife – her husband had been the CEO of a small company – and she had done a lot of international travel. During her travels, the 80-year-old had acquired a large collection of teapots, 85 of them in total. "She was absolutely despondent over the fact that this move could mean for the first time in 50 years that those teapots would not be with her," says Buysse. "She was moving from 5,000 square feet to 500 square feet."

  

The move manager suggested that the senior woman select her top three favorite teapots to take with her to her new home to place into her dinette cabinet in her new assisted living apartment. Then, the move manager took digital photos of the other 82 teapots, had a poster made at Walgreens for $20, and had it framed at a framing store for another $50. All of the beautiful teapots the senior woman had collected all these years could now live on as artwork to hang in her dinette to look at every day and share with people where she got each one. 

 

"These are the thoughtful kinds of things that an expert who is moving seniors every day does versus a family member will do this either once or twice in their lifetime," says Buysse. "That is the difference they make."

 

 




 




Categories: None

0

/